Eucharistic Adoration
Every Tuesday and Thursday the real presence of Jesus is in the Chapel, from 6:00 p.m. to 8:00 p.m. Spend a half-hour or an hour before our Lord in the Most Blessed Sacrament. Many blessings have been received and prayers answered after time was spent in prayer before the Blessed Sacrament. To sign up for a time slot, call the rectory.
Contact: The Rectory
Fatima Rosary Group
This group meets every Monday in the Bornemann Room following the 8 a.m. Mass to pray for world peace and special intentions. This recitation of the rosary is open to anyone who would like to attend.
Contact: Regina Doyle
Friendly Visitors
Friendly Visitors help our home-bound parishioners continue to feel a part of our parish family. Volunteers visit these parishioners at least once a month.
Contact: Ann Sutherland
Knights of Columbus
The Knights of Columbus Monsignor Bornemann Council #16066 was instituted in the fall of 2014. Following four key principles of Charity, Unity, Fraternity, and Patriotism, this Council of the Knights of Columbus serves the communities and parishes of Sacred Heart Church and Holy Rosary Church.
Membership is open to all practicing Catholic male adults, aged 18 and up, who wish to serve their parish and community. Meetings are generally held the third Thursday of each month.
Visit the council's page on Facebook.
Contact: John Sylvester
Liturgy Committee
Members of the Committee meet monthly to discuss/plan art and environment, intercessory prayers, Lectors and Extraordinary Ministers of the Eucharist, Ushers and Greeters, and Music Ministry.
Contact: Msgr. DeSantis
Rosary
The rosary is prayed immediately following the 7 a.m. Mass, Monday, Wednesday, Thursday and Friday. Volunteers to lead the rosary are always needed and welcome.
Contact: Legion of Mary
The rosary is prayed immediately following the 9:30 a.m. Mass, on Sunday as well as at 7:00 p.m. on Tuesday, during to Adoration. Volunteers to lead the rosary are always needed and welcome.
Contact: The Knights of Columbus
St. Vincent de Paul Society (S.V.D.P.)
Inspired by Gospel values, the Society of St. Vincent de Paul leads people to join together to grow spiritually by offering person-to-person service to the needy and suffering.
Sacred Heart's Society has made a commitment to help the poor and marginalized by providing meals to the needy at Kennedy House, collecting canned goods for both Kennedy House and the Outreach at St. Joseph Church, holding a semi-annual Food Drive, supporting the "Mini-Vinnies" at Sacred Heart School, supporting the Prayer Shawl Ministry, and supporting the home-bound ministry through Valentine's Day baskets, as well as flowers at Christmas and Easter.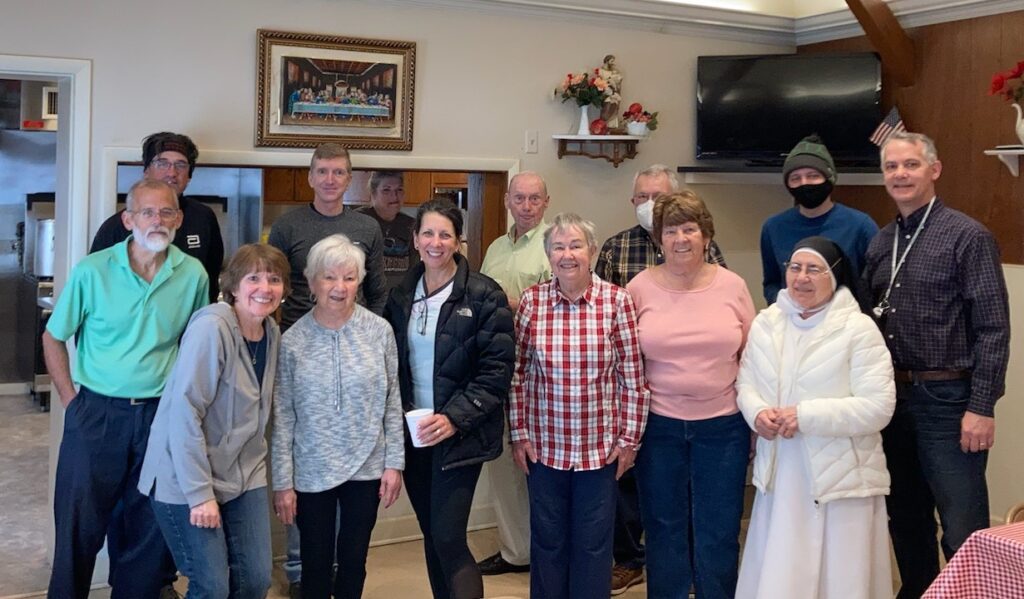 SVDP meets monthly on the second Monday of the month at 7:00 p.m. in the Wachter Room.
For a behind-the-scenes look at SVDP volunteers in action at the soup kitchen, check out this short video from August 2016.
Contact: Kathy Nevel
Ushers and Greeters
Ushers and greeters assist at all Saturday, Sunday, and Holy Day Masses. Volunteers are always welcome to join.